Skip to Content
Protect Your Child's Teeth With a Healthy Lunchbox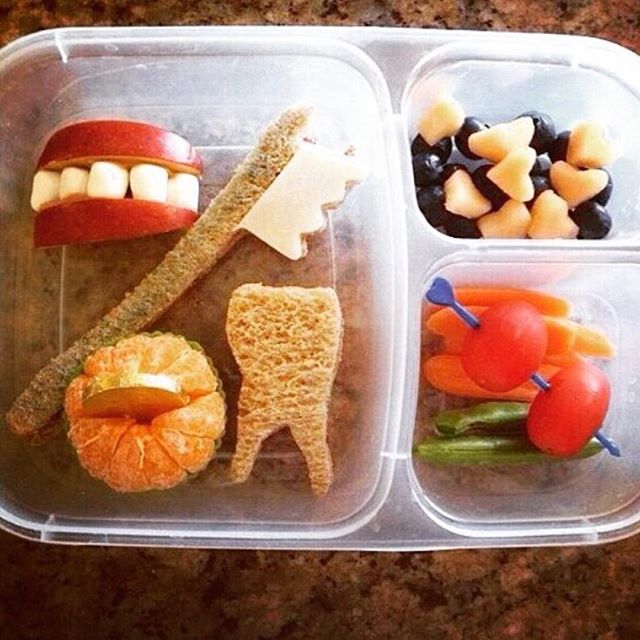 Now that the kids are getting back to school, moms and dads everywhere are getting back to lunch box duty. As you know, packing a healthy lunch doesn't just happen. These days, It requires a good amount of planning and almost as much detective work. Many "healthy" snacks are packed with hidden sugar and pose a serious danger to your child's teeth.
So Just What Can You Pack for Healthy Teeth and Gums?
DRINKS: Unfortunately, the only truly tooth-friendly beverages for school lunches are milk and water. Even juices are risky for teeth, as the combination of the natural sugar and acid within fruit juices can be very damaging to tooth enamel. Unless your child is in the habit of brushing each day after lunch, it's best to steer clear and stick to milk or water.
YOGURT: It's important to read the nutrition label when choosing yogurt for your child's lunch. More and more yogurts are absolutely packed with sugar. The ideal option is to add fresh fruit or fruit puree to a low-sugar yogurt.
SNACKS: Dried fruits sound like a great, healthy option, but in truth, dried fruit is like hitting the mother's lode in terms of finding hidden sugar. Raisins, along with popular lunch box stuffers, are more than 70% sugar, as are dried apricots and prunes. When it comes to fruit for your child's lunch, always skip the dried and go with fresh. Cereal bars can contain up to 30% sugar so again, always read the labels. And watch out for those healthier varieties like Nature Valley, and Nutri-Grain, which tend to be packed with high-sugar ingredients like honey and dried fruit.
The best tooth-friendly lunches consist of simple things, and of course, in moderation.
Fresh fruit
Non-processed cheese and crackers
Unsweetened popcorn
Rice cakes (not the highly flavored variety)
Nuts (uncoated)
Veggies & low-sugar dips like hummus or cream cheese
On the bright side, food products are required by law to be far more consistent in their nutrition labeling standards. Nonetheless, the labels can sometimes be misleading or confusing. In the end, the peace of mind you will get from protecting your child's teeth will be worth it.
At Midway Family & Cosmetic Dentistry, we care about the health of your family's teeth. Don't forget your checkup! Call Midway Family & Cosmetic Dentistry in Alpharetta, GA today at 678-393-1868 to schedule. We look forward to helping you look your healthy, vibrant best – always!
Reach Out to Us Today to Be Seen by Our Dental Professionals