Skip to Content
Now Offering Botox and Juvederm Injections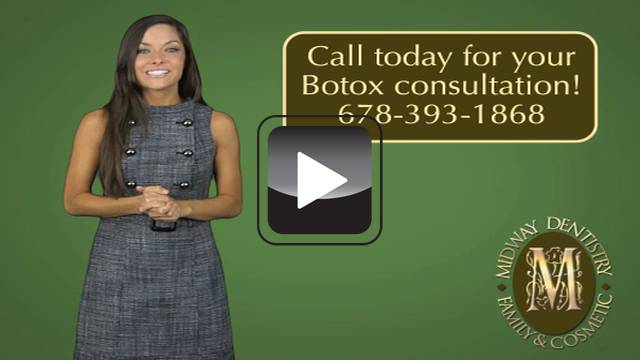 At Midway Family & Cosmetic Dentistry, we are very excited to provide Botox and Juvederm Injections for our patients. Dr. Reinhart and Dr. Moore have successfully completed a Georgia Board of Dentistry-approved course that allows them to administer Botox and Juvederm Injections to our patients. Not only can these procedures improve the appearance of wrinkles around the eyes and forehead, but they can also be used to enhance the beautiful cosmetic dentistry that we provide at our office.
Botox treatment can also be used for therapeutic reasons. It can be used for relief from TMJ pain and clenching, and to reduce the appearance of a "gummy smile". Our dentists are trained
in head and neck anatomy, and they give injections in the area on a regular basis so who better than your dentist to administer your Botox and dermal fillers. Another advantage of having
dermal filler placed at our office is Dr. Reinhart and Dr. Moore can administer oral anesthesia before the filler to make the procedure painless.
To make it convenient to stay on schedule receiving your Botox and dermal fillers, you can combine your treatment with your 6 month check-up appointment or with any restorative
dentistry appointment.
Call our office today 678-393-1868 to determine if you are a candidate for Botox or dermal fillers so you can leave your next visit with a more beautiful smile and youthful appearance.
Reach Out to Us Today to Be Seen by Our Dental Professionals