Skip to Content
Electric Toothbrushes VS Manual Toothbrushes: Which Is Better?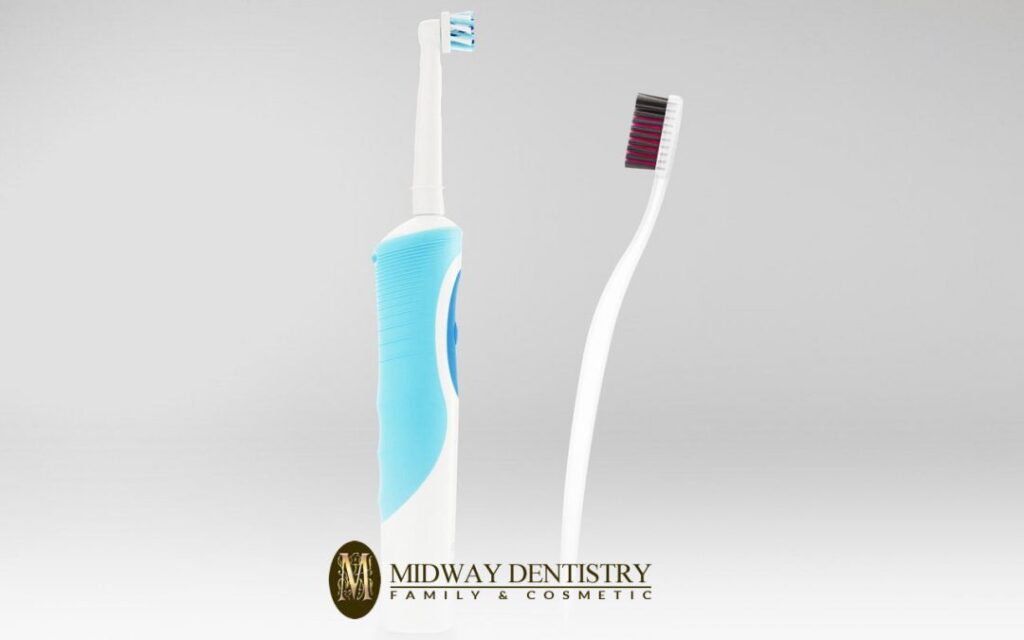 Brushing your teeth regularly is the foundation of great oral health. Brushing regularly helps reduce the changes of cavities, plaque buildup, gum disease and many other common dental challenges. When it comes to brushing your teeth, there are a few different options available. The manual toothbrush is the most common tool people reach for. The technology of toothbrushes over the past 10 years has greatly improved with electric toothbrushes. Electric toothbrushes of all styles are readily available at just about any store or pharmacy and even at your dentist's office. Both manual and electric toothbrushes have their benefits, but is one better than the other? Any toothbrush that's safe and effective receives the ADA's Seal of Acceptance. Let's take a look at some of the advantages of the different types of manual and electric toothbrushes to find out which is truly best.
Benefits of Electric Toothbrushes
At Midway Family and Cosmetic Dentistry in Alpharetta, Georgia, our dentists, Dr. Gina Reinhart and Dr. Leslie Moore, highly recommend a quality, rechargeable toothbrush because of their great oral health benefits! In our own practice, we see patients every day who don't brush their teeth regularly. Plaque buildup, tartar, and gum disease are common occurrences, so of course we recommend any type of toothbrush as long as you're using it every single day, preferably twice a day. However, the benefits we see on patients using quality, electric toothbrushes are obvious.
What the Studies Show
Electric toothbrushes are much more effective at removing plaque buildup than manual toothbrushes. We also see a decrease in gingivitis from patients who use an electric toothbrush on a daily basis. A recent study published by Cochrane, an investigative health organization, showed a reduction in plaque on patients using electric toothbrushes at above 20% over a term of three months. The study was performed with patients using oscillating head electric toothbrushes.
Other Benefits
It has also been found that electric toothbrushes are easier to use than manual toothbrushes for people with limited mobility. Patients suffering from conditions like arthritis and carpal tunnel syndrome generally have a hard time thoroughly brushing with a manual toothbrush. Electric toothbrushes allow these patients to do most of the hard work for them.
Patients with wisdom teeth also find electric toothbrush more effective for those far molars. Reaching the back wisdom teeth can be challenging because there's not much space to move. An electric toothbrush can help assure you're getting a clean brushing on those rear molars because they do the moving for you.
Another positive factor about using an electric toothbrush is the waste reduction. Throwing away a toothbrush head every few months compared to tossing manual toothbrushes improves that waste factor.
Recommended Brushing Timers
Built-in-timers on many newer models of electric toothbrushes take the guesswork out of proper brushing times. A minimum of 1 minute is crucial, and 2 minutes is ideal. Brushing for 2 minutes, twice a day is our dentists' recommendation.
Disadvantages of Electric Toothbrushes
As you can see there are many oral health advantages to using a quality, rechargeable electric toothbrush. But, there are also a few drawbacks. The biggest disadvantage is cost. A quality electric toothbrush can cost anywhere from $100 to $250 and brush heads are typically around $10 to $15 each. While there are other disadvantages, such as people feeling uncomfortable with the vibrations in their mouth and portability/travel concerns, the most common complaint is simply cost. However, the investment in your best oral health is always worth the initial cost. The savings down the road on dental treatments such as root canals, implants, or even dentures may be enough for most people to make the switch to an electric toothbrush. Keeping your natural teeth for life is our goal!
If you have any questions or would like more information and guidance on purchasing an electric toothbrush, don't hesitate to contact the dental team at Midway Family and Cosmetic Dentistry. We love serving our community with quality dental care and look forward to the opportunity to help you too! Give us a call at 678-393-1868 or contact us here at the form below.
Reach Out to Us Today to Be Seen by Our Dental Professionals